Modern Policies Supersede Legacy Software Contract Terms
Server Metric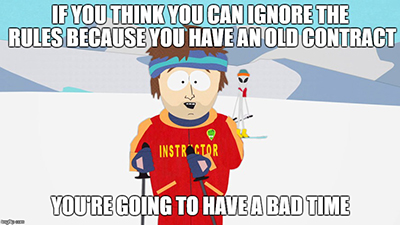 Just because a legacy contract doesn't include rules on virtualization or multi-core processors, it doesn't mean the organization can simply ignore the vendor's current policies on those subjects.  When virtualization technologies were developed, software vendors changed the way servers were licensed.  When a server had a single processor and core, the entire server was licensed as a Server metric.
With the introduction of hardware with multiple processors and then multi-core processors, both Oracle and IBM weighted their licensing based on the processing power of the multiple cores and different processor manufacturers, and issued tables to calculate licensing.  Very few customers still have Server metric licenses, so they need to accept and apply these Core Factor or PVU tables to determine licensing requirements.  To refuse the new rules would likely mean your organization could no longer use server-based software from either Oracle or IBM.
Most software of this type is now licensed based on the computing power of the hardware it's installed on.  Oracle has both Processor and Named User Plus licenses currently, and IBM has Processor Value Units (PVU) and Resource Value Units (RVUs) where the licensed Resource may be defined as managed cores or another hardware-based quantity.
Different methods have been introduced to allow multiple physical servers to be grouped together as nodes, clusters, and larger entities like vCenters.  With the ability to carve up the processing power available to applications, organizations demanded a fairer method to license their software deployments because most of the time, they were no longer allocating the entire processing power of the entire physical server(s) for their applications. Oracle and IBM selected slightly different methods on determining licensing in virtualized environments.
Oracle Virtualization
Oracle defined possible virtualization methods into two types: hardware-based and software-based.  If a client uses a hardware-based method which they call Hard Partitioning, they can license software for the processing power allocated to the application.
If it is software-based, a customer does not receive the licensing concession.  Oracle has made an exemption for their own Oracle Virtual Machine (OVM) if certain criteria is met, including pinning the virtual machine to specific processor cores or threads.  If you cluster an OVM (or LPAR) server to another server, the exemption does not apply. If a customer rejects the vendor's requirements to limit the full processing power of the physical hardware, then the vendor will automatically conclude that the customer must license the full extent of processing power.
IBM Virtualization
IBM introduced their IBM License Metric Tool (ILMT).  ILMT receives information from the server agents every 30 minutes, and compiles a report of IBM software with a hardware-based metric with the associated calculations, so the deployments are converted to the number of PVUs or RVUs.  If an IBM software customer installs ILMT and meets the terms in the IBM Passport Advantage Agreement (IPAA), they are eligible for sub-capacity licensing. Again, If a customer rejects the vendor's requirements to limit the full processing power of the physical hardware, then the vendor will automatically conclude that the customer must license the full extent of processing power.
There's no reason to license the entire physical server when the application only receives the benefit of a fraction of its processing power.  Most organizations would be wise to take advantage of virtualization technologies as a means of cost savings, wherever possible.  Those that do must acknowledge the rules and policies that govern the usage of virtualization and other modern developments like multi-core processors and servers.
If your strategy is to claim any of the modern rules and policies don't apply to your legacy contract, you're going to have a bad time.  It's a red flag to the software vendor that your organization is out of compliance, and it will become a high priority target for an audit.
Miro can help your organization right-size it's licensing portfolio for it's needs. We strive to understand the vendor's concerns, and determine methods that can be less onerous than a vendor's initial position, but still address the concerns of the vendor. This enables our customers the ability to develop a position that meets their needs, but in a way vendors will accept.
Call or email us today to learn how we can save your organization time, money and resources, as well as help assure compliance with virtualization and other modern rules and policies.